2023 FDLA Southern States Symposium & Expo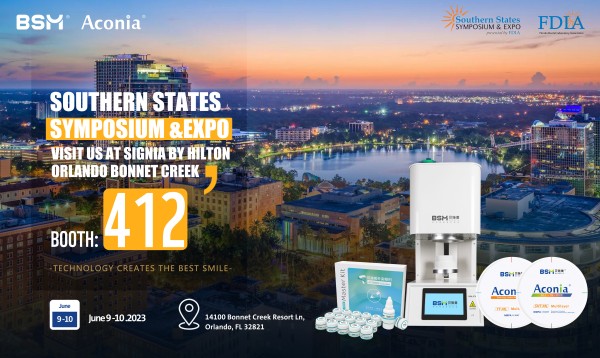 The Southern States Symposium & Expo is the largest dental laboratory industry meeting in the United States of America presented by the non-profit association, FDLA ( Florida Dental Laboratory Association). Besmile, as one of FDLA's business partners will attend the Southern States Symposium & Expo on June 9-10th., 2023.

We will bring our high-performance cad/cam materials Aconia zirconia blanks and Glazic lithium disilicate glass-ceramic, our Artamic esthetic stain/glaze system, and our super handy dental lab glazing furnace to the site. We sincerely invite you to visit us at booth # 412 and experience our innovative dental lab products and advanced technologies firsthand.

And our team will be ready to share with you the technical features and application scenarios of our products. And we look forward to engaging in in-depth discussions with you on improving patient treatment outcomes and satisfaction to create the best smiles for our customers in America.

Please mark this exhibition on your schedule and visit our booth. You will discover tremendously exciting and valuable opportunities at the event.

Besmile at 2023 FDLA
Stand: 412
June 9-10th 8:00am-6:00pm
Back to list